Pave the Way at Quest Plaza

Quest Science Center has opened Quest Plaza at Stockmen's Park, a 5,000 square foot outdoor science exploration and community space in Livermore.  Designed as a shaded, accessible public gathering space, Quest Plaza will host Quest-sponsored programs and science events featuring activities, music, presentations, summer camp sessions and more.
Quest Science Center is grateful to the City of Livermore for their support of the project, as well as project lead La Roza Construction for their work in making this vision become a reality.  Special thanks to naming sponsor Fremont Bank for their partnership and the many community members who contributed to this project. 
Additional appreciation to Topcon Positioning Systems for donating our on-site weather station providing real time data for future activities.  Today's weather is displayed on the right or below, and current when this page is loaded.
Quest Weather Station
September 22, 2023, 11:00 pm
| Data | Current | Daily Max | Daily Min |
| --- | --- | --- | --- |
| Temp | 59.2 °F | 59.2 °F | 59.2 °F |
| Humidity | 75 % | 75 % | 75 % |
| Wind | N-NE 1.0 mph | 1.0 mph | 1.0 mph |
| Rain | 0.00 in | | |
Pave the Way!
To help develop the next phase of public programming and exhibits, we are continuing our Pave the Way campaign. You can build our future by purchasing a brick near the entrance to Quest Plaza in Stockmen's Park!  The bricks will match the existing red bricks in the park and will be reused in the future when the Science Center is built. 
Your brick can be inscribed with a name or message of your choice.  Three different brick sizes are available.  Each allows for a different amount of text.  A company or organization's logo can also be added to the 12″x12″ brick.  Quest reserves the right to review all text submitted for appropriateness.  Messages should align with Quest's mission and values.
In Phase 1, 115 bricks were received and installed in January 2022. An additional 54 bricks for Phase 2 were installed early May 2022, and 28 Phase 3 bricks were installed in November 2022. Five additional bricks for Phase 4 were ordered in late December 2022 and installed in late January 2023.
Orders are now being taken for Phase 5, which will be purchased and installed sometime in 2023, depending on when enough bricks are ordered.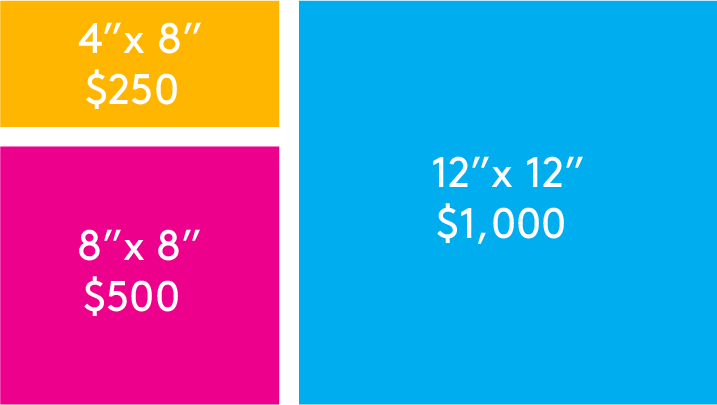 To submit your donation, please complete the form on this page.  The options on the form will change based on your brick size selection.  After submission, you will be directed to our PayPal site for your fully tax deductible donation.  A copy of your information will be sent via email.
If you have any questions or special requests, contact Alan Burnham at ABurnham@quest-science.org.
Thank you for supporting our mission to connect everyone to the value of science!