Energy Quest: Take a Guided Driving Tour
You'll be amazed at what you discover on our fascinating guided driving tour of the energy resources in Livermore.
Did you know…
…That a small oil field was discovered 54 years ago in Livermore?
…That Lawrence Livermore National Laboratory is working on developing nuclear fusion energy in its National Ignition Facility?
…That the fermentation process is not only used to make wine, but also to make alcohol for gasoline?
Discover more facts like these when you play the Energy Quest Game!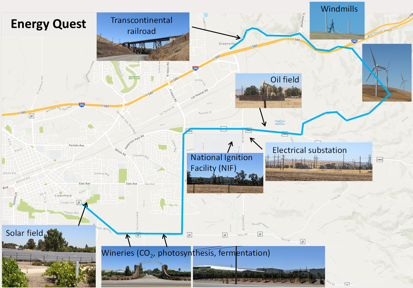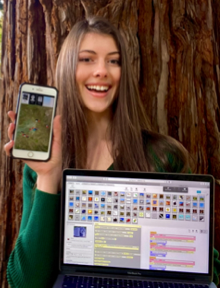 This project was created by student intern, Ginny Herron in collaboration with Quest staff.  Ginny conducted research into the game platform.  Visiting each location, she recorded observations and questions.  Then, she constructed the Energy Quest game by coding and creating word problems, storylines, pictures, and audio.
I learned astonishing facts about Livermore that should certainly be shared with the public. It is truly amazing how much historical significance this town contains. The various energy forms are extensive and impressive. I sincerely hope that you enjoy the Energy Quest and you can expect more of these Quests in the future!
In recognition for her many hours on this project, Ginny was awarded the President's Volunteer Service Award in fall 2021.  Our next app based project will focus on the science of driving and aimed at teens.