Energy Quest: Take a Guided Driving Tour
You'll be amazed at what you discover on our fascinating and fun guided driving tour of the energy resources in Livermore.
Did you know…
…That a small oil field was discovered 54 years ago in Livermore?
…That Lawrence Livermore National Laboratory is working on developing nuclear fusion energy in its National Ignition Facility?
…That the fermentation process is not only used to make wine, but also to make alcohol for gasoline?
Discover more facts like these when you play the Energy Quest Game!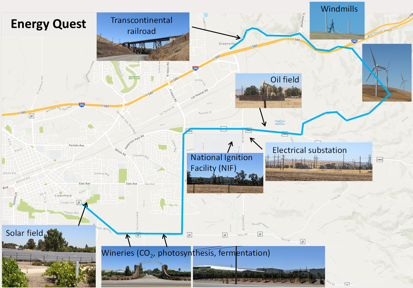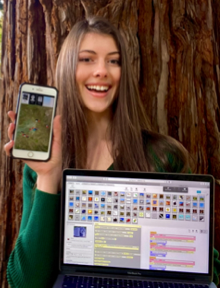 Thank you to Ginny Herron, student intern, for her considerable energy in helping make this quest happen.
Ginny began by conducting independent research into the game platform and visiting each location, where she recorded her observations and questions. Then, she constructed the Energy Quest game including coding and creating word problems, storylines, pictures and audio. In collaboration with the Quest team who provided goals, questions and feedback, the Energy Quest was launched on December 16th, 2020.
I learned astonishing facts about Livermore that should certainly be shared with the public. It is truly amazing how much historical significance this town contains. The various energy forms are extensive and impressive. I sincerely hope that you enjoy the Energy Quest and you can expect more of these Quests in the future!
Explore Energy at Daybreak Labs in Livermore Through the End of December!
This new exhibit demonstrates how energy storage is used to make intermittent renewable energy more reliable. See it in action at Daybreak Labs, 1911 2nd Street, Livermore, CA.
Thank you to Dennis O'Brien, retired Chief Electronics Engineer with Lawrence Livermore National Laboratory, who designed and built this exhibit, and to our partners, East Bay Community Energy, the Rotary Foundation of Livermore and Lawrence Livermore National Laboratory for making this possible.