SEEK by iNaturalist This free smartphone app is designed for children and is used to identify wildlife, plants, and fungi using your phone's camera. Children can earn badges for observing different types of species and participating in challenges. Apple format or Android phones.
iNaturalist – Connect with scientists around the world to help identify plants and animals in your community
eBird – Learn about birds in your backyard or find current birding hotspots with this comprehensive birding website and app, Sycamore Grove Park and Shadow Cliffs Regional Park
Globe Observer – Join an international network of community scientists to learn about our environment and the changing climate
Earth Challenge 2020 Join a citizen's science initiative to collect valuable data using an app on your phone. The project focuses on air quality & plastics pollution.
Timelooper – Visit East Bay Regional Parks virtually
Phyphox – Access all the sensors on your smart phone to collect data and turn it into a mobile physics lab
Become a Cloud Seeker
Camille Schrier loves to observe the sky, day and night.
Did you know there are ten types of clouds?  On this site, you can learn to to name the clouds and learn to name the clouds you see–and even predict the weather! You can even keep a journal to see how they change from day to day.
Join the Citizen Science Project with GLOBE Observer
Did you know a cloud can weigh over a million pounds? People are learning more about clouds through a global citizen science program led by The Global Learning and Observations to Benefit the Environment (GLOBE), which is sponsored by NASA and other leading science organizations.
GLOBE is a worldwide science education program for everyone. All students and the public can collect data, be part of the scientific discovery, and contribute meaningfully to our understanding of the Earth and our global environment. All it takes is a smart-phone and a free app!
Learn how you can contribute to meaningful science from your own backyard or the classroom. Contact Tracy Ostrom at UC Berkeley or Svetlana Darche at WestEd to help support your efforts.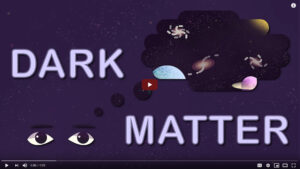 What is Dark Matter and Why is it Important?
Scientists believe that dark matter makes up 95% of what's in the universe that we can't see. Curious? Here's why scientists believe it's there.
Ways to Explore Nature on Your Own
Keep a Journal
Grab a pencil and paper and find a spot where you can sit and easily see something you want to draw.  Start with a single object and work your way up to capturing more of what your eyes can see.  Leaves are fun because you can notice the details.
Become a Better Observer 
You can get better at remembering what you see when you talk about it and make connections.
Try this the next time you are out exploring nature:
I notice… Say what you see (structure, behavior, color, interactions with other species).
I wonder…Say the questions that come to mind, the more the better!
It reminds me of… Try to think of as many connections as you can. Connecting this new observation to those already in memory will help you remember what you are seeing because memories are formed by connections of neurons in your brain.
How Native Plants in Your Garden Help Restore Habitats
An interview with Ann Brown, Education & Outreach Associate, Zone 7 Water District
Quest talked to Advisory Board Member Ann Brown who brings science exploration programs to schools. She is also the Co-Leader of the Citizens' Climate Education, Tri-Valley Chapter.
Quest:
What can people do to make a difference when it comes to being out in nature and observing animals and species?
Ann Brown:
Well, many of the land agencies have volunteer cores that actively do habitat restoration.
For example, Livermore has a program called Living Arroyos. I believe they start in October and go through April. Every other Saturday is a work party and they have a variety of things they do from planting new native plants to maintaining plants that have already been planted to clearing out invasive species. So it's really about restoring our native habitats.
Quest:
So you could get involved and it's something you can do outdoors and help make a difference.
Ann Brown:
Right. And if you're not physically able to do habitat restoration, being an advocate is really helpful too both through letter writing, paying attention to measures and bills that could protect habitat as well as creating habitat in your own backyard. There is an amazing potential to vastly increase wildlife habitat through backyards, and schoolyards.
The National Wildlife Federation has a whole schoolyards habitat certification program, as well as backyards, community-wide. And I'd love to see Quest encourage people to build a community-wide habitat, wildlife habitat certification.
Quest:
What does that mean? And what does it take to do that?
Ann Brown:
It means that you're intentionally providing the basics that wildlife need to survive. And that is a place for shelter, water, food, and a place to raise young. So most of that is provided by native plants. And in a school yard, you could have a native plant garden, but you can also populate the general landscape with native plants.
Many of our ornamental plants have come from other continents. They have basically no value to our native wildlife because they never co-evolved with them. Some do provide food and habitat, some don't. So all the plants have a wildlife value. And if you replace an ornamental with no wildlife value with the native that has huge wildlife value, you're really enhancing your habitat for wildlife.
Almost immediately, you will see birds, butterflies, reptiles, all kinds of wildlife come once you plant those natives and they have a little time to grow.
Get Planting Today!
Here's a handy list of Bay Area native plants and the butterflies they will attract, created by Doug Tallamy, Professor of Entomology and Wildlife Ecology, University of Delaware.